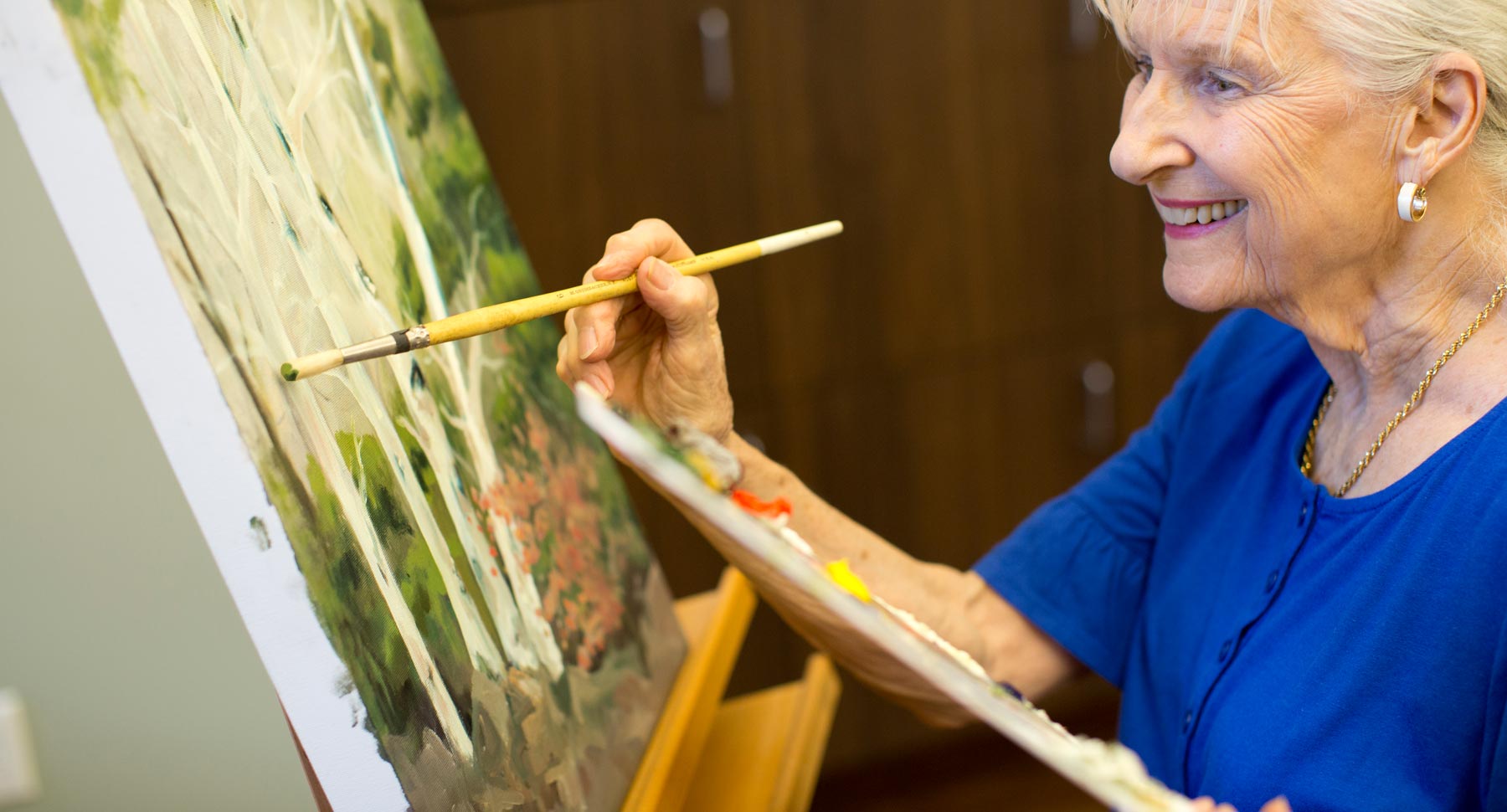 Kansas City senior living with choices that meet you where you are.
So, what is it you're looking for? A robust independent lifestyle, free from maintenance and time-consuming chores? Are you ready for retirement living that offers a variety of residence choices, resort-quality amenities and services that make each day easy and enjoyable? Are you ready to make one move that will take care of any future health care needs? At Kingswood, you'll find a Kansas City lifestyle that's designed around you. Plus, because Kingswood is a Life Plan Community, Assisted Living and Memory Support are available right here for those looking for a rich lifestyle with specialized assistance and care. Best yet, we accept direct admissions for both.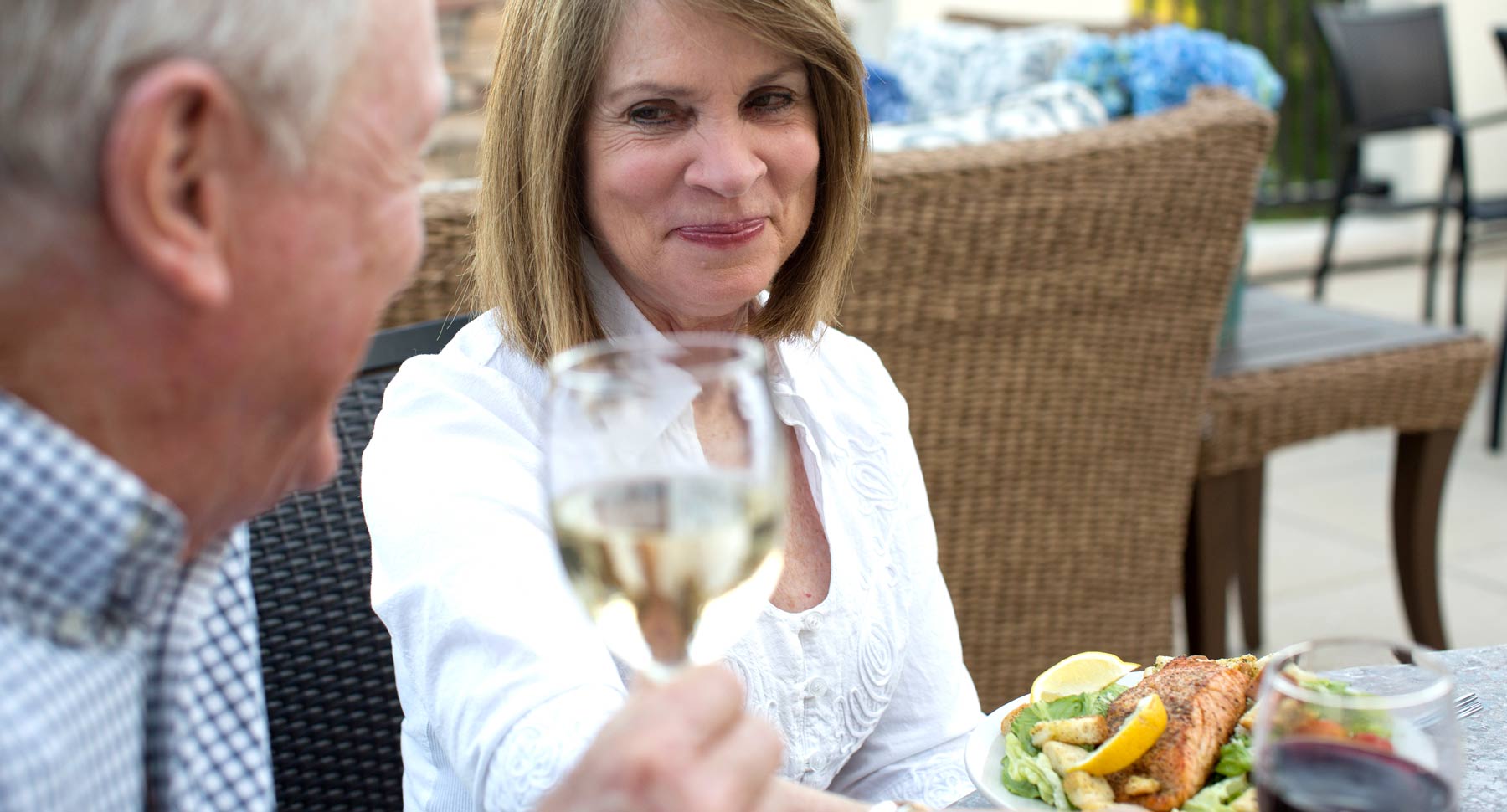 Lifestyle Options
Whether you're an independent senior looking for the best in retirement living in Kansas City or you're searching for personalized care and support for a loved one, we've got options to meet you where you are.
Lifestyle Options
Whether you're an independent senior looking for the best in retirement living in Kansas City or you're searching for personalized care and support for a loved one, we've got options to meet you where you are.
Kingswood Lifestyle Options FAQ
PLACEHOLDER - do not use
placeholdere only to make other toggles closed
When should a person move from Independent Living to Assisted Living?
There is no "right time" to move from an Independent Living situation (your own home or an Independent Living community) to Assisted Living. It's a very personal decision. To those living in their own home, the decision to move may be a result of not being able to keep up with the everyday tasks necessary for safely living independently, such as grocery shopping and preparing healthy meals, keeping up with home maintenance and chores, driving, showering and dressing, and laundry. In fact, family members or friends may notice that these responsibilities are becoming overwhelming, and they may help you make that decision. Another indicator that it's time for Assisted Living is your health. If you have a worsening health condition, if you cannot safely manage your medications, or if you are experiencing an increased number of falls, it may be time for the 24-hour available support and personalized care offered within Assisted Living.
For those living in an Independent Living community, usually, meals, housecleaning, maintenance, transportation and more are taken care of. The primary reason for a person in this situation to move to Assisted Living would be health-related: a worsening medical condition or need for a higher level of personalized support.
Several signs may indicate it's time to move from an Independent Living situation to Assisted Living:
Worsening of a medical condition(s), increased frailty and number of falls, inability to manage medications.
Difficulty with personal hygiene, housecleaning and upkeep, eating properly, caring for oneself.
Trouble with managing finances, paying bills, or other money problems.
Depression or social isolation.
What does Assisted Living provide?
Assisted Living is an ideal solution for an older adult who needs some support but does not require the intensive nursing and medical care available in a nursing home. Assisted Living provides accommodations (a private or shared apartment/residence) and personalized assistance with dressing, bathing, eating, ambulating and toileting. Assisted Living also provides one to three meals per day, medication monitoring, housekeeping and laundry, 24-hour assistance, and social and recreational programming. Some Assisted Living communities may also offer scheduled transportation services, access to medical services, and access to community amenities.
Is Assisted Living tax-deductible?
A portion or all of your Assisted Living costs may qualify for the medical expense tax deduction. According to the IRS, any qualifying medical expenses that make up more than 7.5% of an individual's adjusted gross income can be deducted from taxes.
Who qualifies for Assisted Living?
Senior living. Nursing home. Assisted Living. The terms can be confusing. So which choice is the right one for you or your loved one? There are certain criteria to quality for admission to Assisted Living; this level of support is appropriate for older adults who:
Need help with activities of daily living (ADLs), such as dressing, bathing, eating, managing medication and toileting. Residents also receive help with household chores and daily meals.
Are mobile, meaning they can walk or use a cane, walker or wheelchair independently.
Are able to live in an apartment or residence without the need for round-the-clock care.
Are in stable health. Assisted Living residents should not require ongoing medical attention or 24-hour care/supervision. If the resident has a chronic condition such as arthritis or diabetes, they should be able to manage that care independently.
What should you expect from a Memory Care facility?
When choosing a Memory Care community for a loved one with Alzheimer's or another form of dementia, there are certain things you should expect. A Memory Care community is a residence (either stand-alone building, a residence within a Continuing Care Retirement Community, or designated area within a larger senior living community) that focuses exclusively on the needs of those living with memory loss. Memory Care communities offer many of the same services you'll find in Assisted Living, including personalized assistance, meals, housekeeping, laundry and medication management, but there are some key differences, including:
24-hour care and supervision
Staff specialized in memory and dementia care
Memory-enhancing therapies and/or programming
Person-centered care/personalized care plans
A secure environment that prevents wandering
Purposeful design to lessen confusion and promote independence
When should a person move from Assisted Living to Memory Care?
The good news is, if a loved one is living in an Assisted Living residence, it won't be solely up to you to decide if or when the time is right for Memory Care. The caregivers and staff at the Assisted Living community will be managing your loved one's care and support and will communicate any issues with you. Before that time comes, you will have probably noticed some signs of dementia; those may include:
Frequent forgetfulness
Poor hygiene
Wandering and/or getting lost
Aggression
Change in eating habits
Trouble with socializing or participating in activities
There is a tremendous benefit to your loved one's safety and well-being to move to Memory Care sooner rather than later. The secure environment, routine schedules, trained caregivers and specialized programming can enhance your loved one's quality of life, providing direction, structure and support.
How do Life Plan Communities work?
A Life Plan Community – also known as a Continuing Care Retirement Community (CCRC) – is a senior living community that offers Independent Living and access to higher levels of care, including Assisted Living and Skilled Nursing, all on one campus. The benefit of a Life Plan Community is the ability to "age in place" and not have to worry about moving if health care needs change.
But there's more to Life Plan Communities than access to care. Residents of Life Plan Communities choose them for the active, maintenance-free lifestyle they offer now with the security and peace of mind for tomorrow.
Most Life Plan Communities are service- and amenity-rich, offering dining choices; housekeeping and maintenance; utilities; security; resort-style features such as fitness centers, pools, tennis and pickleball courts; social events; lifelong learning opportunities; transportation services; and more.
Life Plan Community Fees
Typically, residents come in at the Independent Living level, paying an entrance fee and monthly fees.
Entrance Fee
The entrance fee is based on:
Contract type: Type A Life Care, Type B Modified, Type C Fee-for-Service, or Rental
Residence (apartment, villa, home – choices vary by communities)
Refund percentage (depending on community offerings)
Monthly Fee
The monthly fees are also based on the contract you choose as well as the residence you choose. Monthly fees cover services and amenities offered at the community. Some fees are all-inclusive; others are not.
Access to Care
As a resident of a Life Plan Community, if your health needs change, you have access to higher levels of care on site, including Assisted Living and Skilled Nursing. Many Life Plan Communities also offer home care, rehabilitation and Memory Care. The cost of that care depends on the contract chosen.
Visit and see it all for yourself.